Series 250 Parochial School Diploma Set (for Christian Schools)
$13.25
For returning customers with good credit and no late payments on previous orders, there is the option to invoice. Forms for invoicing are located here.
For questions, contact Ren Kremer at 855-873-4566.
New customers, or to pay immediately, please proceed with the step-by-step order form below.
Product Description
When closed, the Kremer Series 250 parochial school diploma set measures 5.5 x 8.5 inches.
Every diploma set includes:
Pliable, leatherette diploma holder that is available in five colors: black, maroon, green, blue or red
Gold elastic pawl (to hold the diploma inside)
Gold foiled school name on front of the holder with a brilliant gold metal logo plate
Fully personalized diploma sheets on contemporary light gray parchment paper
Blank, translucent sheet of paper to surround the diploma (may be personalized for an additional charge)
White envelope
The durable Series 250 diploma sets were originally designed by Kremer Resources LLC.  The Kremer family is still manufacturing and printing these diplomas under the Graduation Ink name.  Christian grade schools and junior high schools use this diploma style.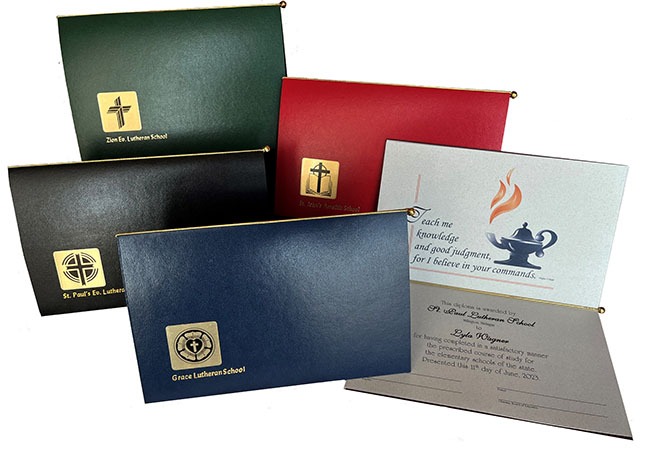 Gold Foiled School Name
The school name is hot stamped with a gold foil on the lower left corner of the diploma holder.  On the Series 250, we use a stock 18 pt Lydian font for all of the school names.
Brushed Gold Plate
The brushed gold logo plate is unique to the Kremer diploma line at Graduation Ink. The metal plate measures 1.5″ x 1.5″ and has a 3M adhesive backing.  The gold plate is above the school name on the lower left side of the diploma cover.


Choose from five stock images when checking out or upload a custom logo for an additional charge.
Stock Logo: Included
Custom Logo (monochrome or full color): $1.25/diploma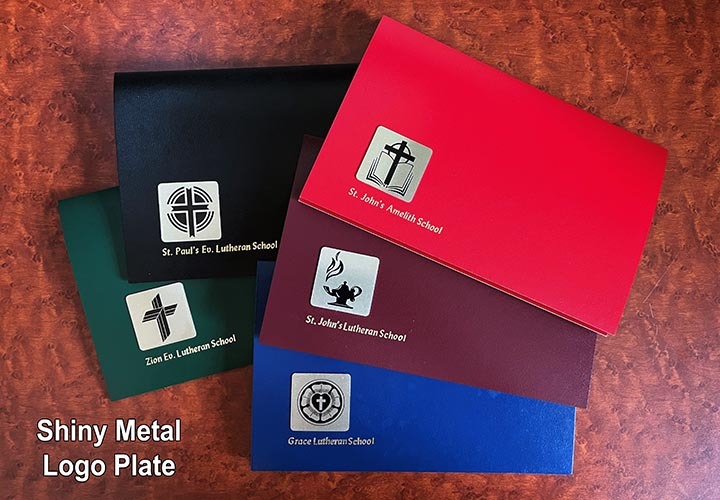 Personalized Diploma Sheets
The top half of the 8.5 x 11 inch contemporary gray parchment diploma sheet has a blue and orange Lamp of Learning.  In addition, there is a Scripture verse: "Teach me knowledge and good judgment, for I believe in your commands." Psalm 119:66.
The lower half of the diploma sheet includes the school name, student name, date of graduation and customized signatures lines.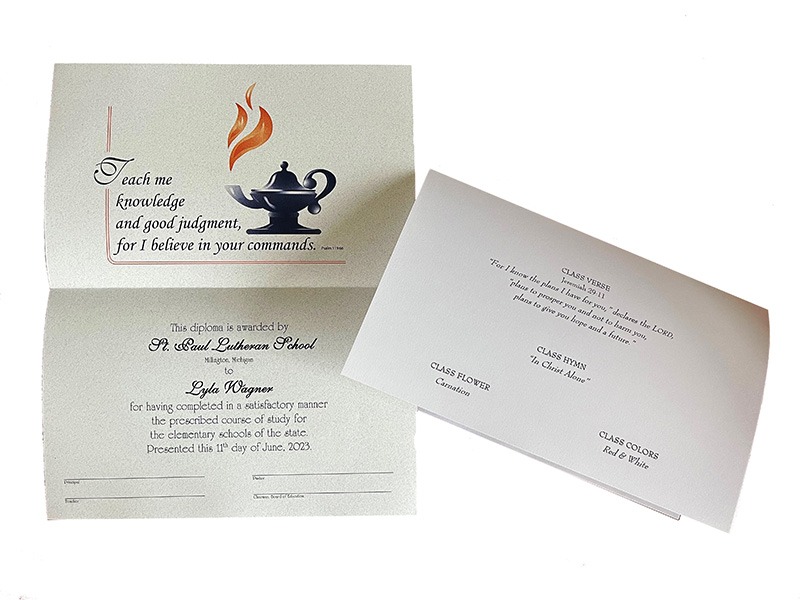 OPTIONAL: Personalized Translucent Sheet
Surrounding the Series 250 parochial school diploma is a second, folded sheet of specialty translucent paper.  Every order includes a blank sheet. However, we can print the class verse, hymn, roster, flower and colors on the translucent sheet.
Blank Translucent Sheet: Included
Personalized Translucent Sheet: $40.00 per order
OPTIONAL: Graduation Worship Bulletins
The Kremer line of graduation worship bulletins complement the Series 250 parochial school diploma set beautifully.  The same Scripture passage and Lamp of Learning logo from the diploma are also on the bulletin cover.
The graduation worship folders are available in two sizes.  Additionally, they sell in packs of 100 :
8 1/2″ x 11″ – $12.85/pack
11″ x 14″ – $13.90/pack

OPTIONAL: Personalization of White Envelopes
This white envelope, included in the cost of the Series 250 diploma set, fits the Series 200 and 250 Kremer diplomas.  There is a gum flap on the long edge of the envelope.  Additionally, they measure 6 x 9 inches on 24 pound paper.
Blank White Envelopes: Included
Personalized White Envelopes: $1.75 ea.
| | |
| --- | --- |
| Weight | .12 lbs |
| Dimensions | 8.5 × 11 × .03 in |
| Diploma Model | Series 250 |
| Diploma Size/Style | Pliable, Folded 8.5" x 11" |
| Hinge Type | Tent Style – Hinge on Top |
Only logged in customers who have purchased this product may leave a review.