Shipping in Less Than 1 Week  |  Order Diplomas & Holders? Up to 25% Refunded.  Ask for Details 


Graduation Ink Home School Diplomas
Hand Crafted. Personalized. Hassle Free.
The finishing touch to your student's homeschool education should include an official, distinguished memento. Personalize your graduate's diploma cover with elegant hand-foiled gold or silver lettering and tailor the beautiful card-stock diploma sheet with custom wording, foiled text, and even raised ink thermography that will reflect your values and your child's achievements.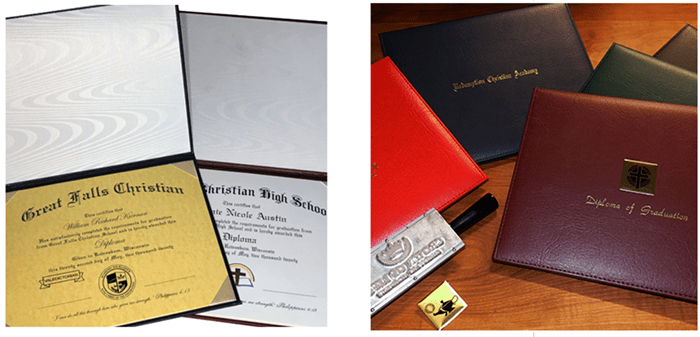 Are you part of a Home School Association? Create a custom design for your association's home school diplomas and save up to 50%!

Call Krista or Jesse at 262-247-0343, chat with us right now, or email us to get started today.
All Home School Diploma Orders Include a Beautiful Holder

Covers for Graduation Ink home school diplomas are available in blue, burgundy, black, red and forest green. Leatherette grain covers come with contemporary stitched, turned edge. Our covers can be hand-foiled in a gold or imprinting. The inside of the cover includes a silk white moiré material and four silk corner ribbons to hold the diploma. Clear acetate sheet protectors are also included.
The Home School Graduate's Diploma

Our home school diplomas are printed on heavy paper. You can opt for either traditional or contemporary fonts. Lettering and logos can also include hot foil as an option and the graduate's achievements can be highlighted with raised ink text for Valedictorian, Salutatorian, Honors or High Honors.