Graduation Ink Diplomas & Diploma Covers
Graduation Ink Diplomas & Diploma Covers
Fast Turnaround. Personal Service. Hassle Free.
The finishing touch to your students' education should include a classy, distinguished memento. Our diploma sheets are not cookie-cutter designs.  We can personalize your school's diplomas and diploma covers with an elegant heat-foiled logo imprint, full color raised ink or custom text. In other words, Graduation Ink tailors the order to your specifications with custom layout, wording, and full color logos.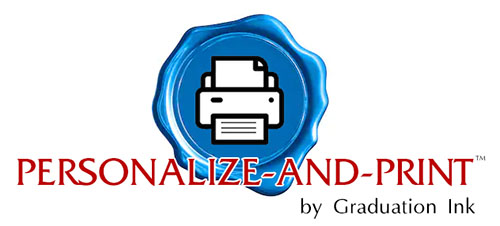 Our team came up with a unique idea that no other diploma manufacturer offers for diplomas and diploma covers. We call it "Personalize-and-Print". Therefore, we provide you with:
Non-personalized diploma blanks that have all of the color images, mascots and text pre-printed on them
A WORD template specifically for your diploma blanks
The template fonts
Keep in mind, that this is just an option, but a very popular one. However, we can always print the names or leave blank lines for handwritten calligraphy.
Our Custom Imprinted Diploma Covers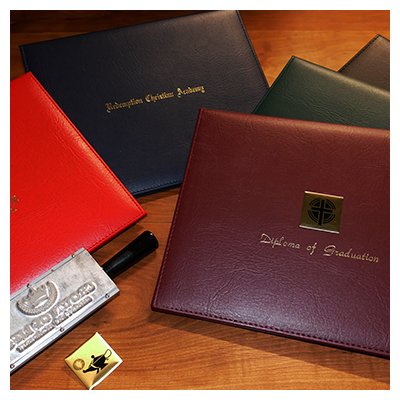 The Graduation Ink imprinted diploma covers are available in blue, maroon, black, red and green. The padded diploma covers have a light grain in the leatherette material and a beautiful stitched edge. Full color logos or metallic foil imprint can be hand-foiled onto the covers in gold or silver.  In addition, the inside of the cover is a silk white moiré material and four silk ribbons to hold the diploma.  A full color logo or mascot can be printed on this moiré material. In conclusion, all orders for padded covers include clear, acetate sheet protectors.


The Graduation Ink Custom Diploma Sheets
Diploma stock includes contemporary parchment or smooth card stock papers. Spot metallic foil imprint can include text or logos.  Additionally, we can print in raised ink or provide sticker seals to highlight the graduate's achievements.

Above all, if you have specific questions about Graduation Ink diplomas and diploma covers, please ask.  We're always ready to help!