Print File Design Specifications
We have included a couple of brief, educational videos regarding our print file design specifications below. Full color printing at Graduation Ink is completed using a flatbed UV press.  Think of it as a large printer head that moves back and forth over the product while curing the ink with a UV light.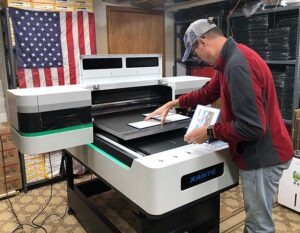 What types of artwork can be used?
We recommend vector vs. raster image types.  What is the difference?  Vector images are mathematical points that can be enlarged with no loss of quality.  Raster images are pixel-based, similar to a photograph.  When enlarged or edited, these images can lose significant quality.
We print in four colors – CMYK and spot white.  Logos and images should be produced in CMYK vs. RGB
Print file design specifications for logos and mascots are at least 300 dpi (dots per inch)
Final details
We can use pdf .ai.eps.jpg, tif or .psd files also.
The artwork must be sent as an email attachment or as an upload to our website.  Embedded images in Word documents or within the body of the email will strip out the high quality.
If your image does not fall within the specifications above, we may be able to have our graphic arts team work with you to get a design that will work.  There may be extra charges for this service.
Feel free to chat or contact us here with questions.