Milwaukee Archdiocese Diploma Sets
$5.35
For returning customers with good credit and no late payments on previous orders, there is the option to invoice. Forms for invoicing are located here.
For questions, contact Ren Kremer at 855-873-4566.
New customers, or to pay immediately, please proceed with the step-by-step order form below.
Product Description
When closed, the Milwaukee Archdiocese diploma set measures 5.5 x 8.5 inches.
Every diploma set includes:
Pliable, leatherette diploma holder that is available in red, black, green, maroon or blue (blue is the standard color)
Logo of the Archbishop Jerome Listecki foiled in gold on the front of the holder
Option to gold foil the school name on the diploma holder
Gold elastic pawl (to hold the diploma inside)
Diploma sheets on contemporary parchment paper with personalization options
White envelope
These durable diplomas were originally designed by Kremer Resources LLC in conjunction with the Office for Schools in the Archdiocese of Milwaukee.  The Kremer family is still manufacturing and printing these diplomas under the Graduation Ink name.  They are used by elementary schools and junior high schools in southeastern Wisconsin.

Gold Foiled School Name (optional)
The school name is hot stamped with gold foil under the Archbishop's crest on the front of the diploma holder. We use a stock 18 pt Lydian font for all of the school names.
A gold elastic pawl is included to hold the diploma inside of the diploma cover.
Standard Cover with Archbishop Crest: Included
School Name Printed on Covers: $1.75 ea.
Diploma Cover Color
Standard Blue Cover Color: Included
Optional Red, Green, Black or Maroon Cover Color: $1.00/diploma
Diploma Sheets – Option A: No Personalization
There are two different options for the personalization of the diploma sheets:
Option A for the Milwaukee Archdiocese Diploma set has blank lines that will allow the school to fill in the school name, date and student name by hand or with a calligraphy artist.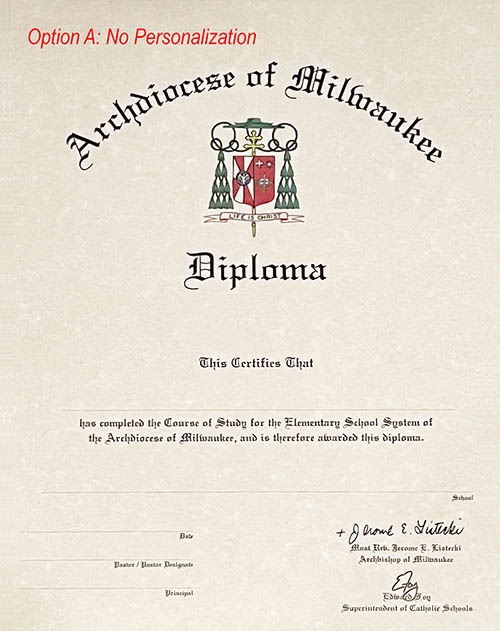 Diploma Sheets – Option B: Full Personalization
The Archdiocese diploma set can have full personalization.  Graduation Ink will print the school name, graduate name and date of graduation in an Old English font.
Option B has an additional $2.50 charge per diploma for full personalization.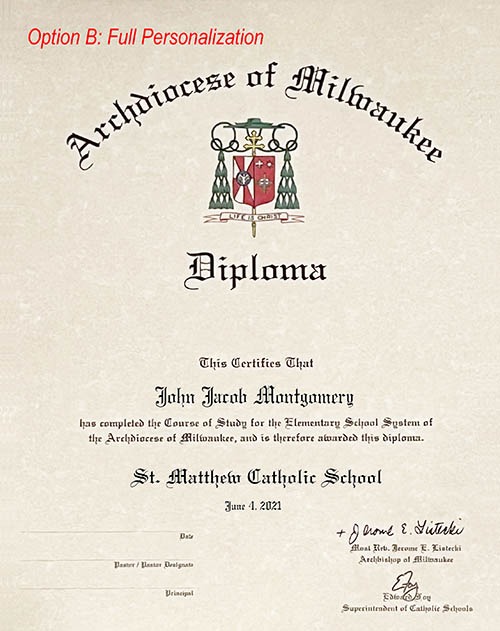 White Envelopes
This white envelope fits the Milwaukee Archdiocese diploma set. There is a gum flap on the long edge of the envelope. Additionally, they measure 6 x 9 inches on 24 pound paper.
Blank White Envelopes: Included
Personalized White Envelopes: $1.25 ea.
| | |
| --- | --- |
| Weight | .11 lbs |
| Dimensions | 8.5 × 11 × .03 in |
| Diploma Model | Series 200 |
| Diploma Size/Style | Pliable, Folded 8.5" x 11" |
| Hinge Type | Tent Style – Hinge on Top |
Only logged in customers who have purchased this product may leave a review.