Multiple Sizes and Styles of Diplomas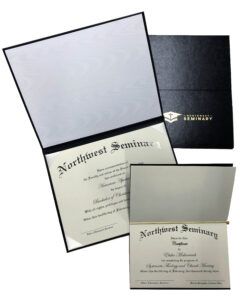 Graduation Ink has multiple sizes and styles of diplomas to meet your needs. From small and pliable to extra-large sized padded covers, you'll find it here. Whether you want your diploma cover custom foiled or digitally printed with your logo or crest, we're the answer. And if you want to add spot foiling or raised ink thermography to your diploma sheets, we'll help you customize it for the perfect look.
Pictured here, you'll see Northwest Seminary uses the 11 1/2 x 9 inch padded leatherette diploma for degree recipients. They also use the 8 1/2 x 5 1/2 inch pliable leatherette style diploma for awarding certificates in various programs. The covers feature a custom gold foil imprint while the diploma sheets use silver foiling on the school name.
With Multiple Sizes and Styles of Diplomas, the options are endless. Contact a customer service representative to help you create the diplomas that are right for your needs.