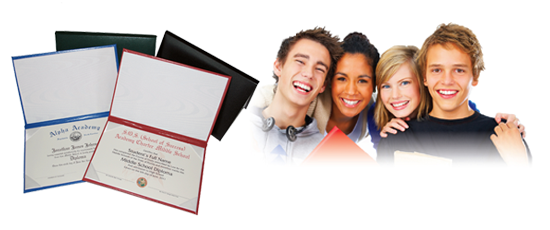 ALL DIPLOMA COVERS & SCHOOL DIPLOMAS ARE HAND FOILED AND PRINTED IN THE UNITED STATES.

Welcome to Graduation Ink
the Source for School Diplomas & Diploma Covers
Graduation Ink is a family-owned diploma printer in Southeastern Wisconsin. We partner our school diploma and diploma cover sales with Kremer Resources LLC. The Kremer family has been has been providing high quality, professionally printed products to schools since 1948.

Graduation Ink stocks diploma covers for technical colleges, high schools, middle schools, and elementary schools - private, parochial, public and charter. Our diploma covers have the school name hot foiled into them. The diploma sheets are custom designed exactly to your school's specifications.
The most unique aspect of our product is the diploma sheet. In an effort to allow schools to save by purchasing several years in advance, the diploma sheets are not personalized. The majority of the diploma will be pre-printed, however, the black text that contains the date and graduate's name will be included in a Microsoft Word file. When it is time for graduation, simply insert the pre-printed diploma sheets into the printer, enter the student's name and date, and print out the finished copy for a hassle free, professional diploma.
Current Product Line
Graduation Ink currently manufactures and supplies the following school graduation products:

Elementary School Diplomas



Middle School Diplomas



Junior High School Diplomas



High School Diplomas



Charter School Diplomas



Christian Elementary Schools



Home Schools



Graduation Gifts (Plaques, etc.)



Technical College Diplomas