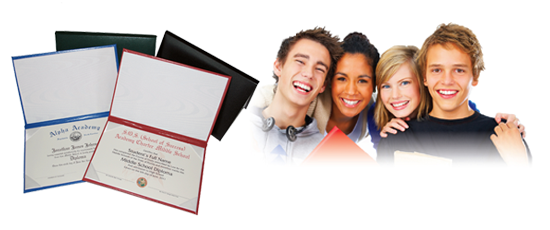 ALL DIPLOMA COVERS & SCHOOL DIPLOMAS ARE HAND FOILED AND PRINTED IN THE UNITED STATES.

Welcome to Graduation Ink!
the Source for School Diplomas & Diploma Covers
Graduation Ink is a family-owned diploma printer in Southeastern Wisconsin. We partner our school diploma and diploma cover sales with Kremer Resources LLC. The Kremer family has been has been providing high quality, professionally printed products to schools since 1948.
Featured Products for 2014
Now for 2014 we have changed up the Series 500 Elementary and Middle School diploma line. These diplomas hold a 1/2 sheet - 5 1/2" x 8 1/2" diploma or certificate. In the past, these diploma covers were constructed of a Castillian vinyl with an anti-stick plastic window that held the diploma. We have upgarded the line to reflect our larger high school diploma covers. All of these covers are now fully padded, have a white moire interior panel, and four silk corners to hold the diploma...and best of all, the cost remains the same! For more information on the new Series 500, click here >
Current Product Line
Graduation Ink currently manufactures and supplies the following school graduation products:

Elementary School Diplomas



Middle School Diplomas Improved Design for 2014



Junior High School Diplomas



High School Diplomas



Charter School Diplomas



Christian Elementary Schools



Home Schools

Graduation Gifts (Plaques, etc.)

Mini Wallet Laminated Diplomas

A Unique Diploma Product
School diplomas and diploma covers from Graduation Ink are unique. The diplomas can be ordered in bulk years in advance. We provide the hand-foiled diploma covers, pawls, two color printed diploma sheets with the school logo and school colors, and a CD-ROM. The custom CD allows a school office assistant the ability to load the pre-printed sheets into a computer printer, enter the student's name and graduation date, and print out the finished diploma product for final assembly.