As promised, Graduation Ink - the Diploma Source, is now offering high school diploma printing and diploma cover production.  There are two options available for high school diploma customers - the popular, budget-friendly, Series 500 diploma and the new Series 850 diploma.
Series 850 High School Diploma
(may also be used for Technical College or military diplomas)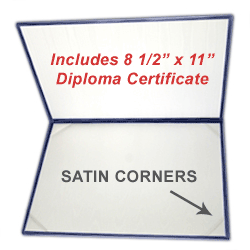 This diploma holds a custom designed diploma sheet that can include the school logo or mascot.  This service is complimentary (there is no obligation to purchase if you do not like our design ideas). 
The diploma covers includes the following features:
• Turned edge construction
• Lightly padded
• Leatherette texture
• White, moire interior panels
• White, satin corners to hold the diploma in place
• School name foiled in silver or gold on the front cover
• Blue, black, red, or green diploma cover colors
 Series 500 High School Diploma
(Also used for Charter Schools, Middle Schools, and Home Schools)

The Series 500 diploma is our most popular diploma style for middle and charter schools.  At Graduation Ink, we decided that this would also be an excellent low-cost, yet classy alternative to traditional large diploma covers.  Starting at $6.60 each, this diploma cover/diploma sheet combo includes a custom designed diploma sheet and a hand-foiled, lightly padded Castillian vinyl cover.  The diploma sheet is held in place behind an anti-stick clear protective sleeve.
Available in red, blue, green, and black.