Elementary School Diploma Printing & Diploma Covers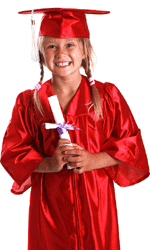 Graduation Ink elementary school diploma printing is light on school budgets and saves time and re-ordering hassle for administrators and office staff.
Because of our unique process, elementary schools can order diploma covers and corresponding diploma sheets in larger quantities to lower the overall diploma cost. Pre-printed, full color elementary school diploma sheets are provided with the school logo or mascot and school name. Although we can complete turn-key personalization, our unique "Personalize-and-Print" process is extremely popular and highly touted by our customers. (NOTE: If you desire full personalization, it is available for $1.75 per diploma.)

With "Personalize-and-Print", the graduate's name and date are not pre-printed onto the diploma sheet, rather, we provide a downloadable Word template that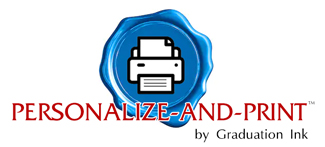 has been formatted specifically for your elementary school. This process allows an office assistant the ability to feed the non-personalized blanks into the school's inkjet printer, enter the student's name and date of graduation into the Word document, and print the completed diploma for a professional finished product.
A brief video of the "Personalize-and-Print" process can be viewed here:
All elementary school diploma printing orders have the option of including the diploma cover, pre-printed diploma sheets and the template download file or completed diploma personalization.
Series 300 Elementary School Diploma Printing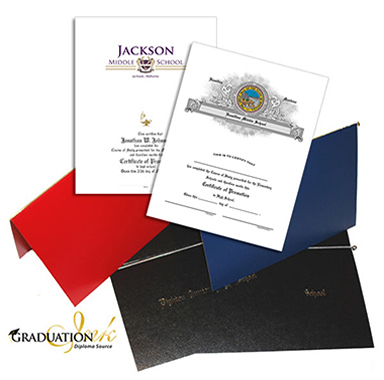 The Series 300 elementary school diploma, or grade school diploma, is printed on a contemporary, speckled paper. The attractive, leatherette diploma covers are hand-foiled with your school name in gold or silver. The diploma covers are available in blue, black, maroon, red, and green.
All Series 300 elementary school diplomas also include a gold or silver pawl (elastic cord) to hold the diploma in the cover.
Closed Size: 5 1/2" x 8 1/2"
Colors may not appear exact on different computer monitors.

Black
Blue
Green
Red
Maroon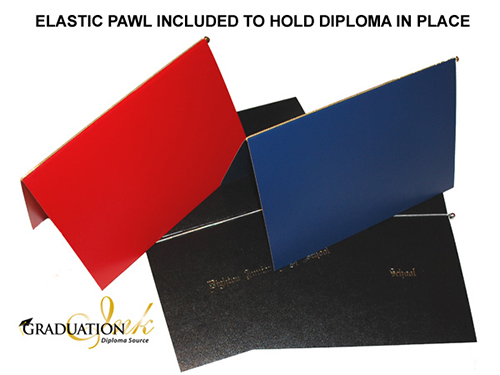 Series 300 Blank Covers & Pawls