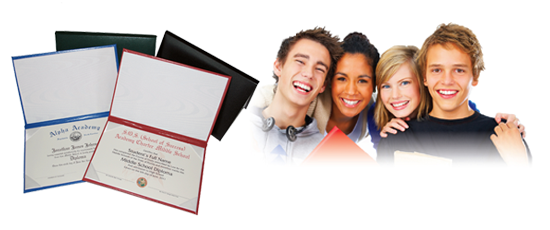 ALL SCHOOL DIPLOMAS ARE MANUFACTURED, HAND FOILED, AND PRINTED IN THE UNITED STATES.

Graduation Ink School Diploma Printing Sitemap
Graduation Ink provides middle school diploma printing, home school diploma printing, elementary school diploma printing, and charter school diploma printing with Series 300 and Series 500 diplomas.
Graduation Ink was founded by Jesse Kremer to distribute school diplomas that are designed, printed, and foiled by Kremer Publications, Inc. in Butler, Wisconsin.
The diploma printing policie's page includes shipping, returns, refunds, and privacy.
Middle School Diplomas are printed with the Series 300 and Series 500 diploma.
Elementary School Diplomas are printed with the Series 300 school diploma.
Christian School Diplomas are printed with the Series 250, 300, and 500 school diplomas.
Charter School Diplomas use both the Series 300 and Series 500 school diploma.
Home School Diplomas use a blank, padded 500 Series diploma cover and a custom diploma sheet.
High School Diplomas are custom designed and include either the Series 500 Castillian vinyl cover or the larger, padded, turned edge, leatherette covers.
Follow updates and tips on all of the products that Graduation Source has to offer.
School diplomas can be ordered from Graduation Ink by calling 262-247-0343 or filling out the forms on the "How to Order School Diplomas" page.
Graduation Ink is located in Kewaskum, Wisconsin. Contact the school diploma source here.
Receive free, complementary school diploma cover samples and diploma sheet samples here.